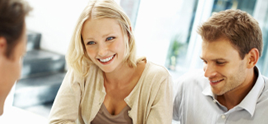 The choice of solicitor acting on your mortgage application can determine the length of time your transaction will take to complete.
We find that the effeciency between different solicitor firms can vary considerably and where a solicitor does not act in an efficient manner, the time taken to complete can be extended putting pressure on the sale and purchase chain, and in the worst case, threaten the whole transaction, where people within the chain threaten to, or actually pull out of the sale or purchase.
When selecting a solicitor to act for you, please note that all solicitors are not able to act for all lenders, so it is recommended you contact us before appointing a solicitor.
We have encountered a number of clients recently who have appointed a solicitor and paid fees etc, only to have to transfer to another firm, as the acting solicitor was not on the selected lender's panel of approved solicitors.
Please note that when you select a solicitor, the chosen firm is required to act for you, and also act for the lender on your purchase or remortgage, and only solicitors who are entered on their approved solicitor panel are authorised to act on the transaction
We act for you to ensure we select the most competitive mortgage product for you based on your circumstances and requirements, and once we have confirmed the lender, we can then guide you with the choice of solicitor.
Most lenders have a panel of approved solicitors who are able to act for them on your mortgage application and we can provide you with a ist of the lender's panel solicitors. We also work with some solicitor firms who we can recommend to you, who we find provide competitive prices and a reliable service, and this will help to progress your mortgage to completion as smoothly as possible.
Please feel free to contact us to discuss the choice of solicitor and we can go over this with you in further detail. For a no obligation assessment simply complete our Online Mortgage Enquiry Form.